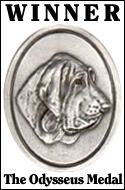 Greg Swann at the Bloodhound Blog has announced this week's winners in the recently minted Odysseus Medal competition.
In just its third week of existence, this competition is already bringing out the best in some very strong real estate bloggers. The "short list" is jammed packed with some quality posts.
Mastermind Russell Shaw won the People's Choice Award. If you've never read Russell, do so. Now. And if you ever get the chance to hear him speak, you'd be a fool not to take advantage of it. The man is an incredible wealth of information.
Mortgage Planner Dan Green was this week's Black Pearl Award winner. His post titled "What to Do If Your Home Is Losing Value and You Aren't Planning to Sell" is a must read.
Our post, The Sacrosanct 6% Commission — How About 12%?!, was awarded the Odysseus Medal. Considering the competition level, I'm deeply humbled and honored. Many thanks to whoever submitted it!
The Odysseus Medal competition is held weekly. Details and submission form can be found here. The rules are minimal, the judging strict and consistent. The thing I like about it (other than the overall quality) is you can submit any post you deem worthy — whether you write it, or someone else does. If you read nothing else in the real estate blogiverse, read the weekly short list. It will provide much thought and insight.
[tags]Odysseus Medal, real estate blogging[/tags]